About Us
The Happy Dog Training Company runs training classes in Tewkesbury, Cheltenham and Gloucester, and offers puppy and adult dog training classes as well as behaviour consultations, puppy socialisation walks and private training. We welcome dogs and owners from across Tewkesbury, Cheltenham, Gloucester, Evesham and beyond and we love the fact that our clients remain with us for course after course, developing a great network of friends and dog-training colleagues. We pride ourselves on using reward-based training methods, combined with a high level of understanding of canine behaviour and the use of up-to-date behaviour modification techniques to achieve great results. The Happy Dog Training Company is Kennel Club Listed and offers the Good Citizen Dog Scheme at all levels from Puppy Foundation to Gold.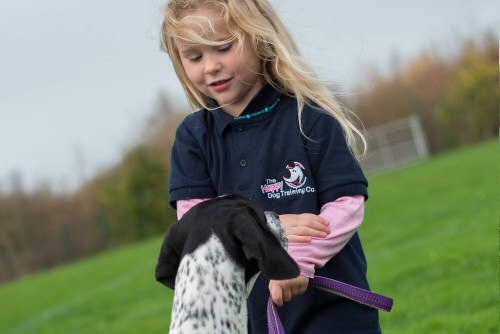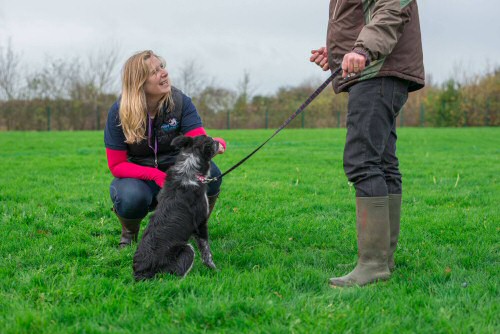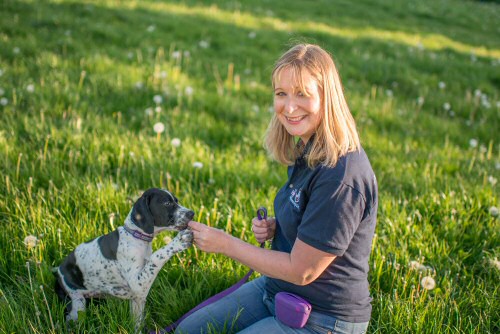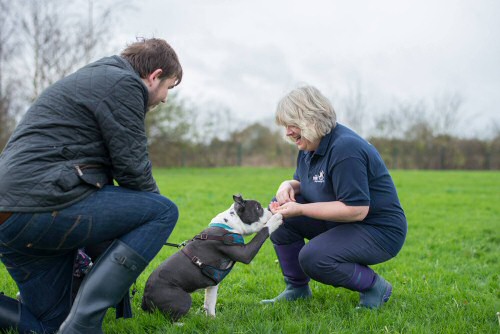 The Happy Dog Training Company, run by Rachel Butler, offers a range of training opportunities for dogs of all ages and abilities. The puppy side of the business, Puppy School Tewkesbury, is fully affiliated to Puppy School, an established network of puppy training classes which use only kind and effective techniques. Founder and Director of Puppy School, Gwen Bailey, set up the network in 2002 to help new owners give their puppies the best possible start in life. Gwen is an internationally renowned dog trainer and behaviourist who has written 9 books on animal behaviour and lectures on the subject worldwide. See www.puppyschool.co.uk for more information on the Puppy School network.
Our Classes
Click the ? for more information about the classes we offer
Puppy School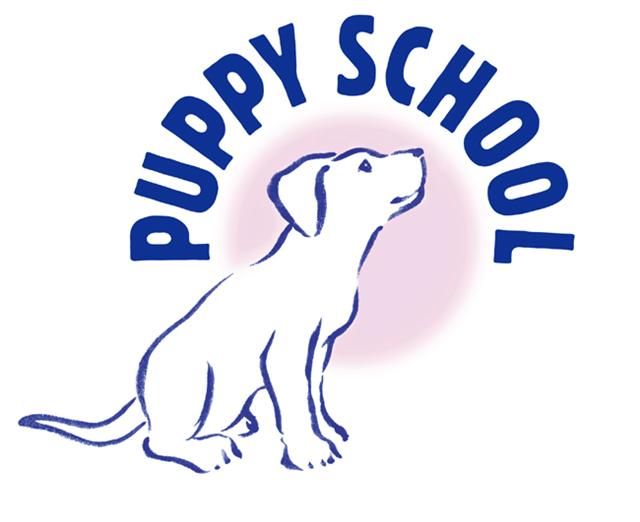 Our puppy training classes are run through the national Puppy School franchise and are held at several locations across Tewkesbury, Cheltenham and Gloucester.
Puppy School classes are designed for vaccinated puppies aged 20 weeks or less. Class numbers are restricted to eight puppies, ensuring that plenty of individual attention is provided. All Puppy School clients and their puppies are invited to attend our puppy socialisation walks at no additional charge.
The Puppy School course costs £95 (plus a £2 booking fee) for six one-hour lessons, the puppy socialisation walks, back-up support by phone or email for the duration of the course and a certificate and rosette.
Interested? Click here to find out when and where these classes are running
Puppy University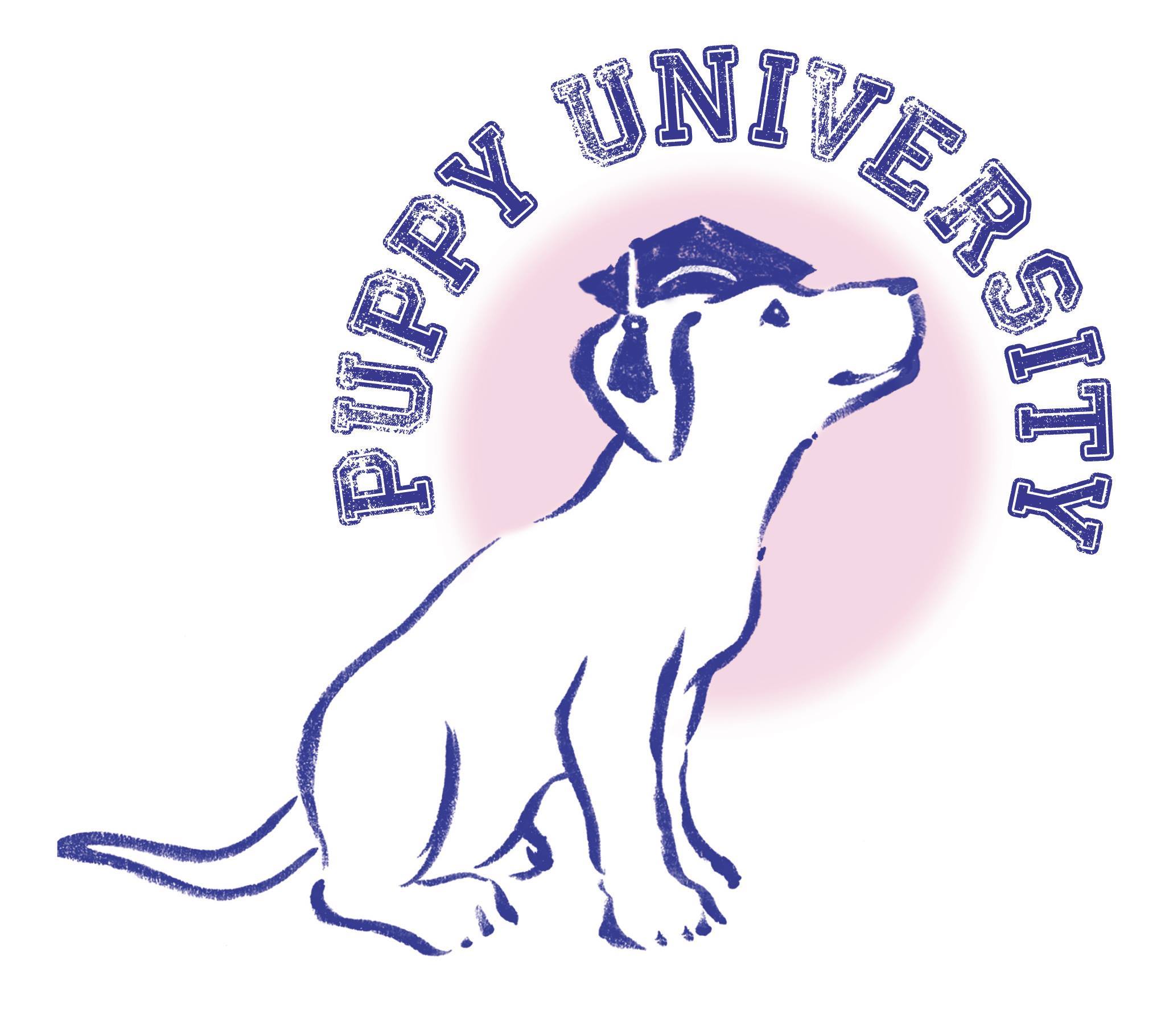 Puppy University is a new addition to our range of courses and was developed by renowned behaviourist Gwen Bailey, through the Puppy School franchise.
Puppy University is a six week block of classes suitable for puppies and young dogs (under one year old) which have completed the Puppy School course or equivalent. The course is specifically designed to tackle some of the challenges of owning adolescent dogs by developing self-control, general training and motivation. Course content includes:
Distance control
Retrieve
Loose lead walking
Verbal markers
Leave
Focus exercises
Weekly tricks
And so much more……
All exercises are taught using only reward based methods, by our highly experienced trainers who have undertaken specific training in order to offer the classes.
To discuss whether this course would be suitable for your puppy or young dog, please get in touch. For future course dates, see the classes page.
Interested? Click here to find out when and where these classes are running
Classes For Older Dogs
We offer a range of classes for older dogs, both those that have completed Puppy School (or equivalent) training and also those that have little or no formal training. All courses offer the same high level of training with experienced instructors, small classes and kind, effective training methods.
All courses comprise six x one hour sessions and support is offered during this time via telephone or email. We have tried to create a range of courses that offer something for everyone. Our adult dog beginner classes are the place to start for young (6 months +) dogs that need to get going on the basics. Our trainers offer a range of techniques designed to help improve focus, recall and all-round behaviour during this challenging life stage.
We also offer a range of courses to progress onto, from the Kennel Club Good Citizen Dog Scheme awards to our 'Fun Mixed Classes' for more advanced dogs and owners looking to have some fun during their training. From time to time, we also offer specialist courses like our Helpful Hounds and Talking Dogs Rally - please email for further information on these courses.
All courses cost £90 for the six week course and include back-up support by phone or email for the duration of the course.
If you are unsure whether these courses are suitable for your dog, please do not hesitate to contact us for more information.
Interested? Click here to find out when and where these classes are running
Reactive Dog Classes
We are proud to offer specialised practical training classes to help owners overcome issues relating to reactive dogs – those dogs which lunge and bark at the sight of another dog. Using only reward-based behaviour modification techniques and our own bespoke ' traffic light' system, we help you to not only develop a range of strategies for coping with and improving the behaviour, but also to understand why your dog performs these 'unwanted' behaviours in the first place.
The Reactive Dog courses take place over four one-hour sessions in a very carefully managed environment. Week one requires attendance without dogs to allow you to be introduced to the training and learn some of the techniques without the stress of worrying about your dog. In weeks two to four, we gradually increase exposure to our on-lead stooge dogs, helping you to understand how to cope in the 'real world' once you leave the classes.
Only four dogs are accepted onto each course, with a minimum of three instructors, and much of the work is undertaken outside to give the dogs the space that they need. Towards the end of the course, or instructors accompany the handlers on 'real life' walks to allow handlers and dogs to apply their new skills to the challenges they face when out walking.
On completion of the course, dogs and owners are invited to join our adult dog walking group which runs regular on-lead group walks, organised through a Facebook page. These walks are offered on a regular basis, free of charge, to help owners to be able to socialise their dogs around a group of understanding owners and well controlled dogs.
Interested? Click here to find out when and where these classes are running
Other Courses
From time to time, we offer a range of additional courses which appeal to our owners and their dogs. For further information about any of these courses, please do not hesitate to contact us:
Upcoming Classes
For Puppy School and Puppy University courses, please click on the 'Book Puppy Classes Now' button, which will show the forthcoming course dates. For Adult beginner courses, please email us directly at rachel@happydoghappyowner.co.uk'
Please click here to view the Terms and Conditions.
"...these methods work better than any others I have come across"
Our Trainers
The Happy Dog Training Co. is run by Rachel Butler BSc (Hons) who initially began running puppy classes through the national Puppy School franchise. Happy Dog was started in August 2009 following extensive training from Gwen Bailey, internationally renowned dog behaviourist and Founder of Puppy School. Rachel and the Happy Dog team have continued their expansion and, and Rachel is delighted to be a full member of the Association of Pet Dog Trainers (number 01326) and a registered Animal Training Instructor with the Animal Training and Behaviour Council.
Rachel is also a proud member of the Pet Professional Guild and is an assessor for the charity, Pets as Therapy. Rachel acts as Regional Manager for the Puppy School network, looking after a team of puppy trainers across the Gloucestershire and Wales region.
The team at Happy Dog comprises Rachel plus eight part-time trainers who assist in the running of classes, or who run their own classes for the Happy Dog Training Co. All of our trainers are equally committed to using only methods that adhere to the reward-based training ethos that Rachel is so passionate about. Our trainers are highy skilled with specialisms in differing areas and we are proud to ensure that we continue to develop the professional knowledge and experience of our team members. Find out more about our team below: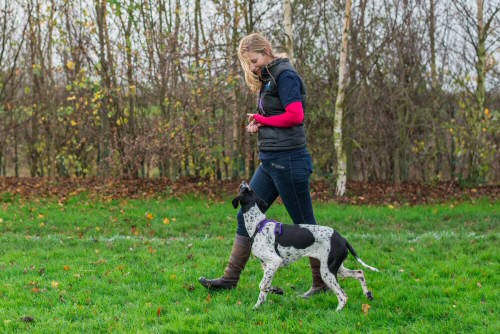 Rachel Butler
I started the Happy Dog Training Co. in August 2009 after extensive training with Gwen Bailey, founder of Puppy School and internationally renowned dog behaviourist. I share my life with my partner, four children and two Pointers called Bramble and Moss. Until 2015, I enjoyed the company of my two beloved Staffordshire Bull Terriers but both died and, despite the heartbreak of the loss, I knew that I could not live without a dog in my life for long - hence Bramble joined our family, followed a year later by Moss.
I am very proud to be a member (member number 01326) of the Association of Pet Dog Trainers and a registered Animal Training Instructor with the Animal Behaviour and Training Council. I am a trained Puppy School Tutor, Puppy School Regional Manager for the Gloucestershire, Oxfordshire and South Wales area and I am also a volunteer with Pets as Therapy, undertaking regular reading at a local school with Moss, who is a registered PAT dog.
Both of my Staffies were rescued after being unsuitable for their previous owners and I worked hard over the years to try to counteract the damage done by poor socialisation and insufficient training. Having experience of 'second-hand' dogs has given me first-hand experience of a range of behavioural problems, meaning that my training advice is often given from a 'real life' outlook rather than being relayed from a university textbook.
I feel so privileged to get paid to do a job that I love so much. I get to meet so many incredible dogs and their owners and to help improve the understanding of one another along the way. I am a real advocate of reward based training systems for dogs, whilst also being hugely enthusiastic about some of the fantastic new behaviour-based methods of training that are being developed. Training dogs is really about timing, enthusiasm and consistency but if an owner can also develop a basic understanding of canine behaviour and body language along the way, the results are incredible.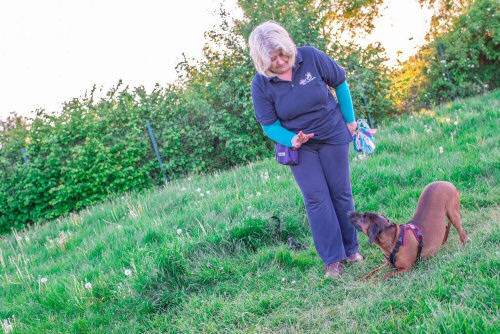 Jacki Clifford
I've been a Puppy School Tutor for 3 years and have recently completed the Puppy University Course, although I have been assisting Rachel with her flagship Sunday evening classes at Tewkesbury for 4 years. I am Office Manager for Happy Dog Training Co. and manage most of the admin amongst other things. I have two Bavarian Mountain Hounds, one works with my husband on a local Estate and the other likes dabbling in agility, obedience, rally and other fun sports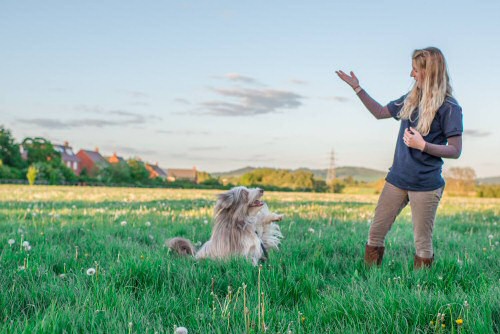 Kim Hawley
I joined Happy Dog running the Cheltenham classes just over a year ago. I am a registered veterinary nurse working full time and I have two dogs with very different personalities, Basil the wire fox terrier (my rescue) who is quiet but very determined and Hugo the bearded collie who is my class clown! We try most things but agility and more recently gundog training are our favourite activities.
I thoroughly enjoy classes and being part of clients bonding with their dogs is very rewarding.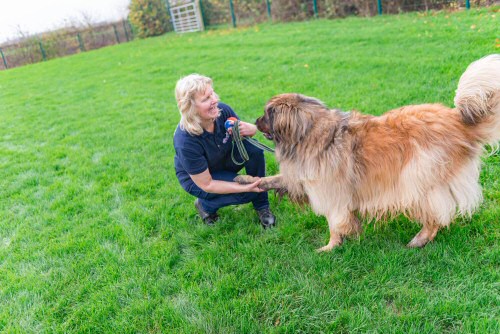 Sue Thane
My name is Sue Thane. I have three Leonbergers, and a German Shepherd, which keep me very busy at home. I have been a volunteer at HDTC since May 2015 where I assist with Puppy and Adult dog classes every Sunday evening. Since joining HDTC, as part of my on-going professional development, I attend numerous 'hands-on' Training Courses in order to broaden my knowledge of handling and training dogs of all breeds, shapes, and sizes!
In October 2015 I started my Puppy School Tutor Training Course, run by Gwen Bailey, which I completed, and passed, in February 2016. Having now qualified as a Puppy School Tutor I run classes for Rachel (HDTC) in the Gloucestershire area. I enjoy working with people and dogs so I suppose you could say this is my dream job!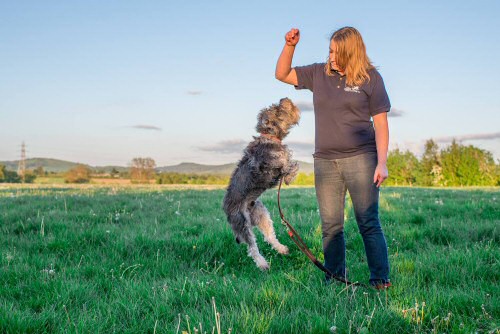 Tania Bevan
I have been with Happy Dog since December 2012 and help in the older dog classes. I do a lot of the practical demonstrations with client's dogs whilst Rachel explains the steps and theory behind the method.
I love assisting in these classes as we see a lot of adolescent and young adult dogs who really benefit from the focus and self-control exercises and the change in behaviour can clearly be seen from weeks one to six. We also take time in class to discuss and demonstrate canine body language and how to better understand both your own and other people's dogs, which is an area I find really interesting. I started as a client myself and have attended all of Rachel's classes from Puppy School through to Advanced with my 3 year old Miniature Schnauzer, Widget.
I continue to further my knowledge and understanding of canine behaviour and training techniques through reading and seminars and attend a range of training classes and workshops including agility and obedience/rally.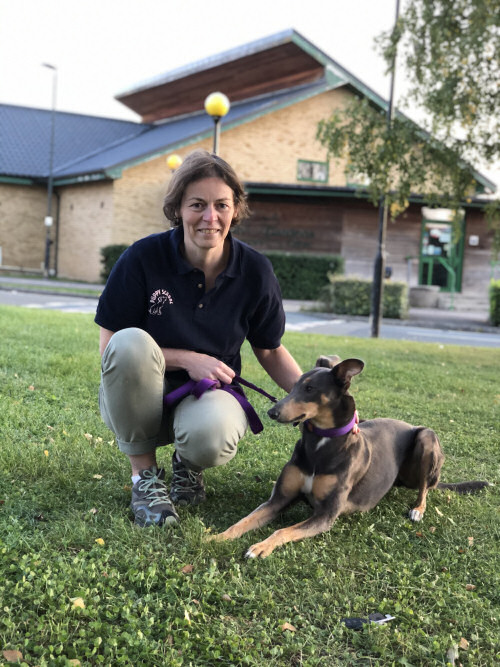 Fi Friend
I started my career in the NHS, switched to gardening and dog walking in 2008. In 2017 I started a gradual career change into dog training. I undertook the Foundation course with The Association of Pet Dog Trainers (APDT) and was lucky enough to find Rachel when I was looking for a puppy class to observe. She generously said I could watch a whole course and I never left!
I completed the Advanced APDT course in 2018 and the Puppy School Training in February 2020. I still work as a gardener and dog walker but in September 2020 I took on the running of some classes for Happy Dog as well as continuing to assist in the Tewksbury classes. It's great, getting to know the pups and the people and seeing them graduate.
My dog Mouse is my second rescue lurcher; a greyhound/kelpie cross. I can't say I've ever met a dog that don't like, but have a huge soft spot for any rescue pups or dogs and any sighthounds.
Behaviour Consultations
Many dog owners put up with a problem behaviour that their dog displays, rather than seeking help. This is often in the hope that it will get better over time or as a result of not knowing where to turn and whose advice to trust. Behaviour problems really can take all the fun out of dog ownership and can make life equally miserable for your dog.
If you are experiencing a specific behavioural problem from your dog, you may choose to consider a behaviour consultation. When selecting a professional to help you, it is important to consider the academic background and practical experience of the person in question. Rachel is a provisional member of the Association of Pet Behaviour Counsellors (APBC) which means that having gained the relevant academic qualifications, she is gaining the practical experience required in order to become a full member.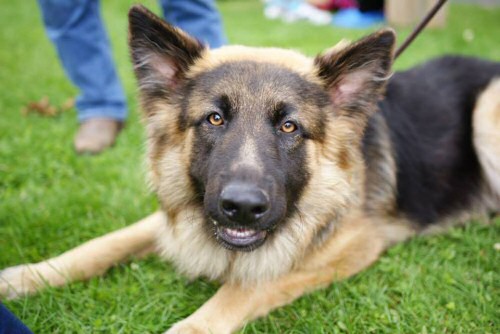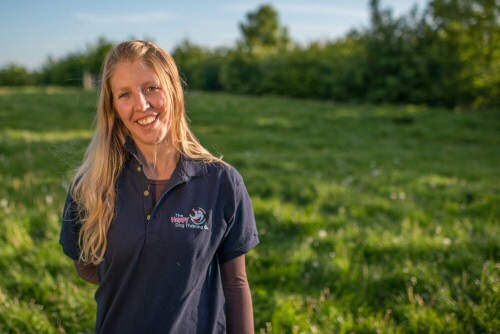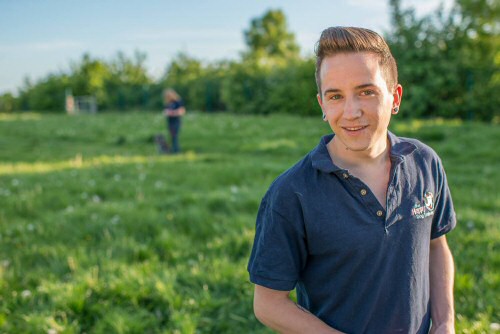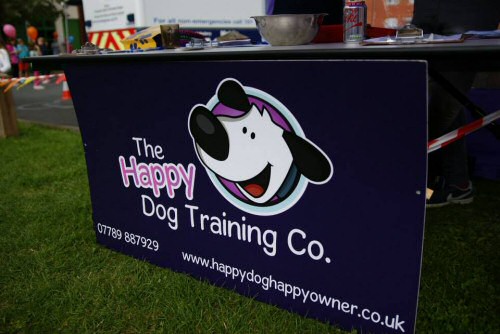 Rachel only offers behaviour consultations on veterinary referral - it is very important to rule out any medical condition as a cause of the problem behaviour. On receipt of the referral letter from your vet, Rachel will ask you to complete an extensive questionnaire to find out more about the problem in question and some background information about your dog. The visit itself will last a minimum of two hours and will involve a mixture of practical training and discussion as well as developing a management plan. On completion of the consultation, you will receive a full written behaviour modification report which will also be forwarded to your vet.
Email or phone support related to the presenting complaint are also offered for a period of three months after the consultation. Get in touch and arrange a consultation (or for a no obligation discussion).
"The classes are also a great way of socialising with other puppies and meeting like-minded owners."
Other Services
Early Puppy Visits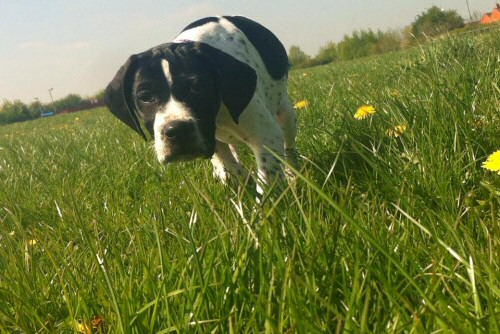 Sometimes, new owners are keen to get a helping hand straightaway with their new canine family member. Others may have questions relating to housetraining, play biting, chewing or other puppy related behaviours.
Rachel offers home visits to help owners requiring such help. The visit can be carried out as soon as the puppy is brought home and cover anything that the new owners wish to discuss. All advice will be tailored to the individual family and puppy but each problem will be tackled using positive, reward based training methods.
The visit lasts one hour and costs £65 (additional costs my apply for clients living outside the area)
Older Dog Training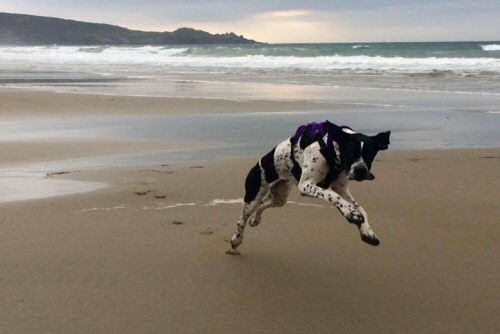 There are occasions when, for whatever reason, dogs are not suited to a class environment or an owner may require more individual assistance.
Rachel offers 1-1 training for a range of problems from pulling on the lead to jumping up at people, reacting to other dogs or simply not understanding how to play with toys. Another common problem is dogs who are not willing to return to the owner when off lead.
The private tuition is offered in the owner's home or at a convenient outdoor location when necessary. All training advice given uses only positive training methods, ensuring the dog and owner are helped to succeed through the use of reward and encouragement.
The visit lasts one hour and costs £65 (additional costs my apply for clients living outside the area)
Puppy Walks
Here at The Happy Dog Training Co., we understand the need for carefully managed socialisation with other dogs in order to help your puppy develop their own social skills. Although we do offer puppy play within our classes, time is often limited and the hall environment doesn't allow the puppies the full freedom that we would like to see.
In order to ensure that your puppy gets the help that he needs during these vital early months, we offer free puppy walks to all clients and their puppies throughout the period of the course. Walks are held once a fortnight on a Saturday morning. We use an enclosed public field located in central Tewkesbury, and keep the walks short enough to be suitable for young puppies with delicate limbs.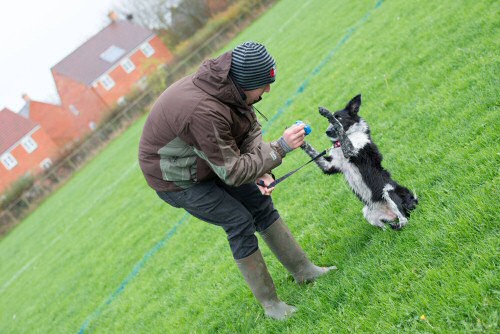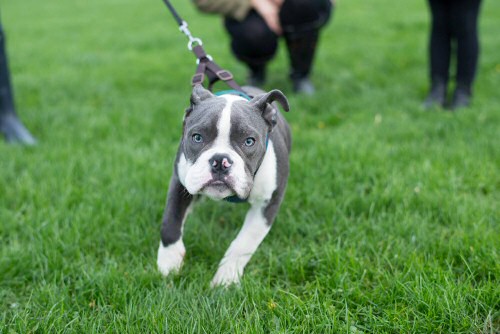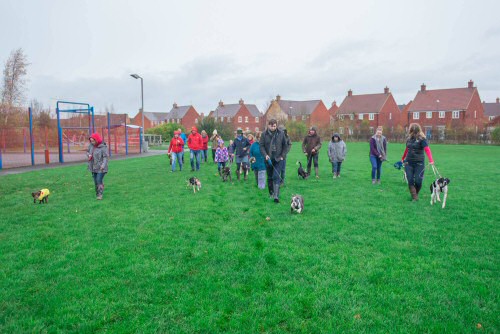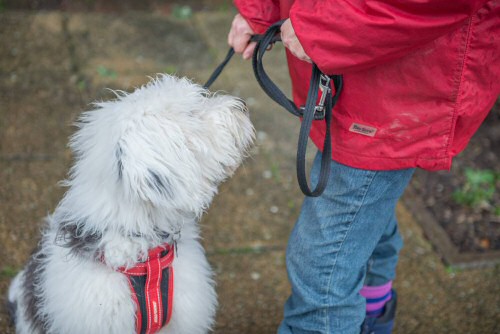 Once at the field, Rachel carefully supervises the puppies whilst they are let off lead in pairs or groups of three. Owners get the opportunity to practise their recall whilst puppies learn the vital rules about play, interaction and appropriate greetings from those who know best - other puppies!
Everyone from the current course is welcome to come along and Rachel ensures that all puppies have a positive experience, leaving them keen to meet other dogs in the future.
"The atmosphere is always relaxed, and it is clear that the dogs are enjoying themselves."